Europe
King Charles III forges new ties with Germany in first state visit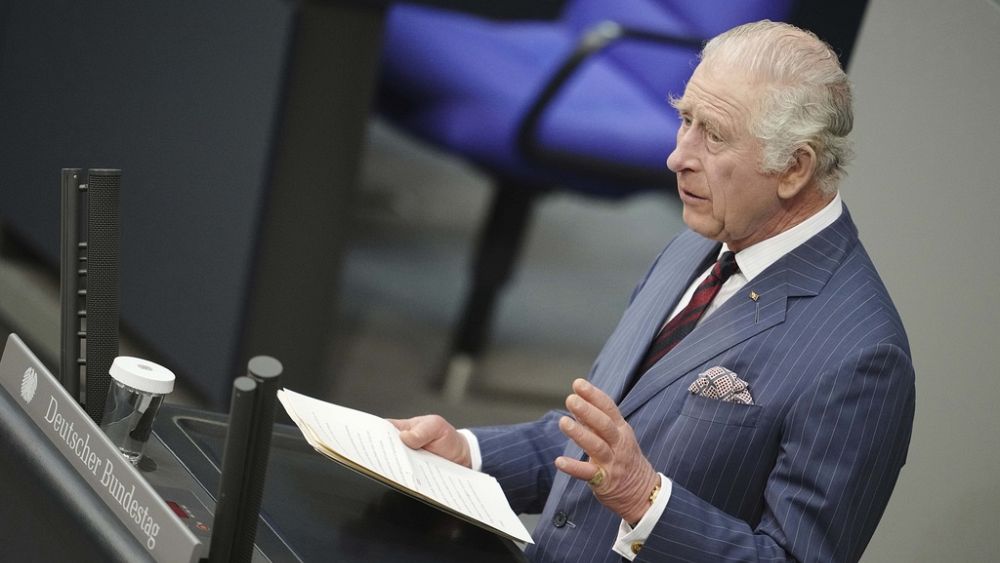 "The war of aggression against Ukraine has brought unimaginable suffering to so many innocent people," said Britain's King Charles during his speech to the German Bundestag – in almost impeccable German, with charmingly British pronunciation. 
"Countless lives have been destroyed; freedom and human dignity have been brutally trampled underfoot. Europe's security is under threat, as are our democratic values.
"One was shocked by the terrible destruction. But one could draw courage from unity – in defence of Ukraine, peace and security" he added in his address, alternating effortlessly between German and English.
Charles' first official trip abroad as king, scheduled before his coronation on 6 May, underscored the historic ties between Germany and Britain, on a political as well as a cultural level.
Political speech, but not a word about Brexit
He did not mention Brexit, which had severed relations between the UK and Europe before both sides reached an agreement in the dispute over the Northern Ireland protocol.
Nevertheless, his speech was by no means apolitical. The British monarch focused on the partnership between Germany and the UK, which he said was reflected in a wide variety of areas in both countries.
Several times he spoke of a new beginning, leaving open whether this referred to his reign or to Brexit.
The British monarch's speech was also positively received in the Bundestag. The deputies gave Charles a standing ovation, despite the criticism voiced by the opposition the night before. 
For example, Left Party leader Martin Schirdewan had said in advance that it was "not appropriate for the highest democratic body to bow before a monarch."
Tying in with the legacy of Elizabeth II
Charles also recalled his mother, who had visited Germany more than 15 times during her 70-year reign, including five state visits. She, said Charles, had worked hard for reconciliation between Britons and Germans since the end of World War II, and not just because her husband, Prince Philip, had German roots:
"My mother knew what an enormous achievement this reconciliation meant. And with her many visits, she wanted to make her contribution to it…perhaps that's why she won a special place in the hearts of Germans."
On several occasions during her visits to France, Queen Elizabeth II delivered speeches in French, securing the nation's goodwill.
She also knew how to convey messages subtly, such as in 2017 when, in a speech on how to make a success of Brexit, she wore a blue hat adorned with blue flowers with a yellow centre. Some argued that this headdress resembled the European Union's flag and sparked speculation on social networks.
The fact that Charles greeted the German delegates in the Bundestag and the 130 guests at the state banquet in the national language while generating a few laughs with his British humour – and a sense for the German one – proved that he can build on his mother's legacy. 
He said he was aware that Miss Sophie's "the same procedure as every year, James" – a quote from the famous "Dinner for One" – is now part of a German happy new year.
He had already expressed at the state banquet at Bellevue Palace that he would do everything he could to strengthen ties between the two countries, adding, "And of course, we stand side by side to protect and advance our democratic values."
In Germany and in the UK, the royal visit has been viewed as a positive signal – a new start after Brexit, initiated on March 29, 2017, in then-Prime Minister Theresa May's letter to the former President of the European Council, Donald Tusk, which triggered Article 50 and outlined the UK's intention to withdraw from the European Union.
For more updates check below links and stay updated with News AKMI.
Education News || Politics News || Journal News || Daily Local News || Lifetime Fitness || Sports News || Automotive

Source