NFL
AFC East training camp preview: Dolphins' summer of Tua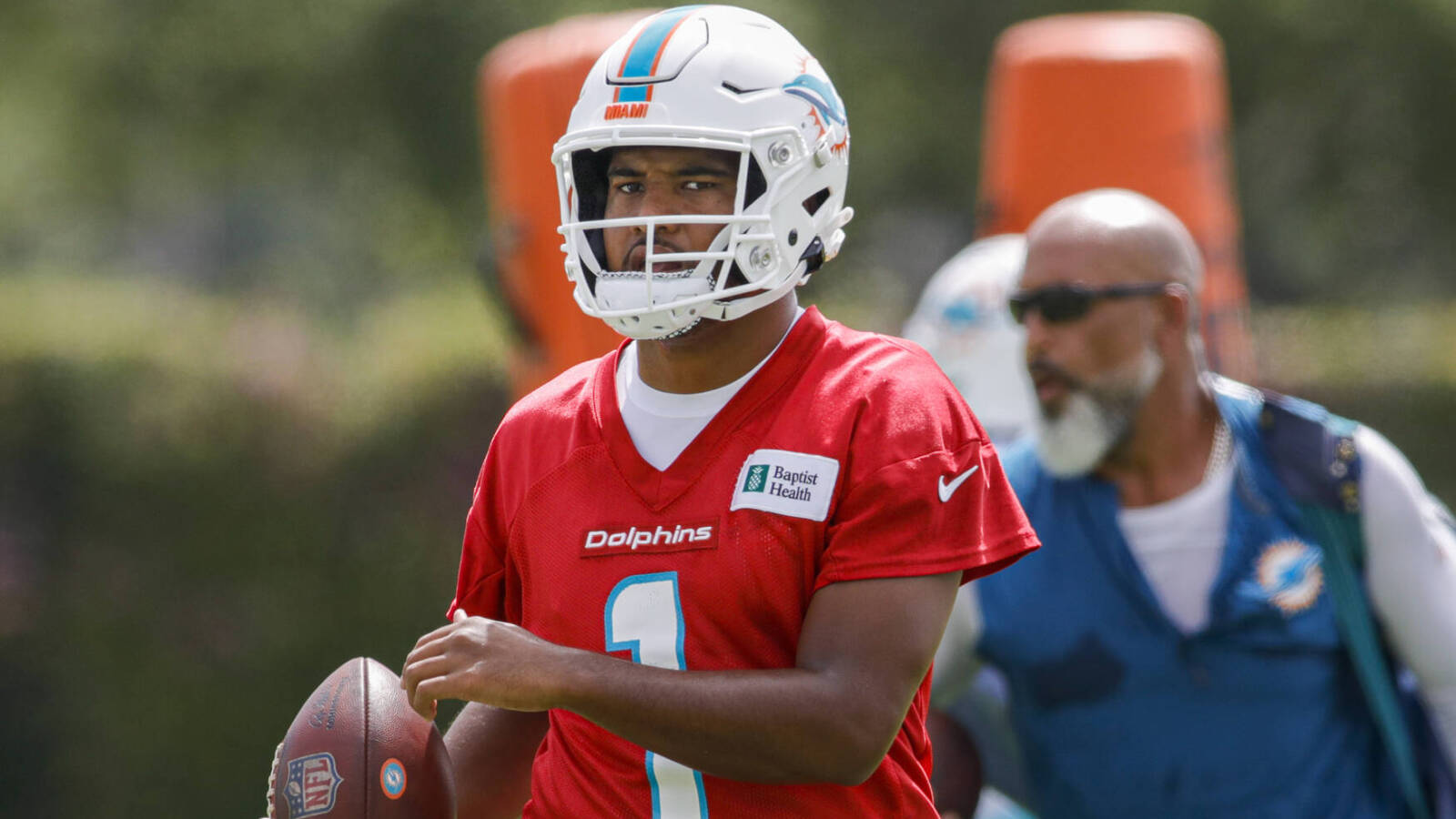 The summer of Tua is upon us, but not every AFC East storyline revolves around the erstwhile Miami Dolphins quarterback. Von Miller has a long list of lofty goals for the Buffalo Bills. Cole Strange has some big shoes to fill for the New England Patriots. Zach Wilson is expected to grow up in a hurry (hush) for the New York Jets. All this and more in Walkthrough's 2022 AFC East training camp preview!
Buffalo Bills 2022 Training Camp Preview
Heading into Camp: No news will be good news for the +600-at-press-time favorites to win Super Bowl LVII. The less we hear about Josh Allen, Stefon Diggs and the Bills' deep cast of second-tier stars, the better. Still, the Bills brought in just enough new faces and have just enough depth-chart competition to keep August interesting.
Camp Battles to Watch: It sounds like Gabriel Davis will be WR2 after his 8-201-4 explosion in the playoff loss to the Chiefs, but who wins the slot job? Jamison Crowder did high-volume replacement-level dirty work for the Jets for three years and could shine in a quality offense. Isaiah McKenzie has speed and experience in the system but is mostly a screens-and-reverses guy. Fifth-round pick Khalil Shakir has "Bills DNA through and through," according to general manager Brandon Beane, which (checks franchise's history) is supposed to be a good thing? All three and Davis could play somewhat interchangeable roles. One thing is certain: Bills fans will worry that Allen doesn't have enough playmakers even if Odell Beckham and Rob Gronkowski show up looking for work.
Newcomer to Obsess Over: Friend-of-Walkthrough Dan Pompei profiled Von Miller for The Athletic in early July, providing details about how Miller embraced his leadership role in Denver (he let fringe players who couldn't find a place to stay live with him during training camp, for example) and outlining a long list of remaining career goals: setting the all-time Super Bowl sack record (he needs one more), leading the NFL in sacks for the first time, becoming the first player to win a Super Bowl with three different organizations, and playing long enough so his son will be old enough to remember watching him.
"I'm the new guy," Miller told Pompei. "I have to win some games, get some sacks, and make guys love me." 
Yeah, all of that's gonna happen.
Returnee to Obsess Over: When asked about Tre'Davious White's status in late May, Sean McDermott said that the All-Pro cornerback was "on schedule," and little else. First-round cornerback Kaiir Elam drew positive notice in OTAs, but it's one thing for a team with Super Bowl aspirations to plug in a rookie at CB2 in a stacked secondary and quite another to ask him to fill in for one of the NFL's best defenders at the start of the season.
Circle-It Date: The red-and-white scrimmage on Friday, Aug. 5. Bills starters will be shrink-wrapped in preseason games, so the scrimmage may be the best place to see Allen throwing to his receivers in something close to a "real game" setting.
Miami Dolphins 2022 Training Camp Preview
Heading into Camp: Some teams are exciting in the playoffs, others in the regular season, and a few in the draft and free agency, but no team provides more entertainment from its press pool on Twitter on late-July mornings than the Miami Dolphins. Brace yourself for moment-by-moment, warmup toss-by-warmup toss, heartbeat-by-heartbeat updates and analysis of Tua Tagovailoa's progress as a quarterback and value as a human being.
Camp Battles to Watch: Tua vs. Teddy Bridgewater isn't a battle. Don't be silly! (Mike McDaniel is about to learn that it's a battle if we SAY it's a battle.)
Free-agent acquisition Connor Williams is slated to play center after spending most of his Cowboys career at guard. That means Austin Jackson, Robert Hunt and Liam Eichenberg will once again divvy up the guard and right tackle roles. Jackson is penciled in ultra-optimistically at right tackle. For a left-handed quarterback. That's worth watching and worrying over.
A lot of ink will be wasted on the Chase Edmonds/Raheem Mostert/Sony Michel/Myles Gaskin running back battle, when we all know McDaniel, as a Kyle Shanahan disciple, will roll with whoever is healthy, hot and will frustrate fantasy gamers the most.
Newcomer to Obsess Over: Tyreek Hill provides both the thrills and the feels, but "The Adorkable Mike McDaniel" is the figure of fascination who will provide daily nerdy/juicy sound bites in training camp while replacing last year's two-coordinators-and-an-angry-coach offense with a system that Jimmy Garoppolo took into the fourth quarter of a Super Bowl. McDaniel was +1600 to win Coach of the Year during a DraftKings "manager's special" in mid-July, and Walkthrough jumped on it. No coach is more likely to win the award based on 10 wins, Tua semi-competence and gushing reviews from Twitter tastemakers.
Circle-it Dates: The Dolphins and Buccaneers joint practices are scheduled for Aug. 10 and 11 at 10 a.m. Eastern. You will want to be glued to your Twitter feed and following every beat writer south of I-10 for those sessions.
New England Patriots 2022 Training Camp Preview
Heading into Camp: Things will be more Orwellian than ever during the late-stage collapse of the Bill Belichick era, so don't expect any thoughtcrime to escape Foxborough unredacted. Mac Jones is ascending from Next Brady into MechaBrady! Nelson Agholor and Jonnu Smith are guaranteed to take a quantum leap in their second year in the system! There was never such a person as Josh McDaniels! Our offensive coordinators have always been J.J. and Silent Matt!
Camp Battles to Watch: The cornerback depth chart currently consists of Malcolm Butler (back from three years in exile and one in semi-retirement), Jalen Mills (found in the bottom of the shopping cart during the Great Spending Spree of 2021), Jonathan Jones (excellent slot corner coming off an injury), Marcus Jones (rookie), Jack Jones (rookie) and Terrance Mitchell (30-year-old journeyman).
Belichick has spent 20 years proving that he will have no trouble finding three capable starters among this bunch, but the Patriots increasingly find themselves settling for "capable" instead of "Super Bowl caliber" at many positions. At least all the players named "Jones" will confuse beat writers enough that Belichick won't feel the need to make players take the field without names on their jerseys.
Newcomer to Obsess Over: Cole Strange thought his pals were pranking him when someone claiming to be from the New England Patriots called him during the first round of the draft. Only when Belichick himself jumped on the call were Strange and his family convinced that, yes, the Tennessee-Chattanooga guard would indeed be a first-round pick.
The Patriots will do everything they can to convince you and themselves that Strange is the next Logan Mankins. Strange is penciled in as the starter at left guard, so he'd better be.
Circle-It Dates: Patriots-Panthers joint practices? Sure, why not! They're scheduled for Aug. 16 and 17, and they'll provide a rare opportunity for out-of-town eyes to report on how the Patriots are really shaping up.
The Patriots will also travel to Vegas to face the Raiders in joint practices before the season finale, but the combined paranoia of the two coaches could result in a three-hour Belichick-McDaniels staring contest while the players perform jumping jacks and stretch.
New York Jets 2022 Training Camp Preview
Heading into Camp: Jets training camp generally has a frantic "Who's Afraid of Virginia Woolf?" energy, with bickering coaches/executives/quarterbacks trying to act unified while undercutting each other through gritted teeth. This year's camp is a little more like "The Graduate," but whatever. Jets fans assure us that Robert Saleh's team is better than usual this year. They're probably right, but training camp is likely to inform us just how far the Jets really are from being any good.
Camp Battles to Watch: George Fant played well when he moved to left tackle in relief of injured Mekhi Becton in the 2021 season opener. Now Fant is expected to keep the left tackle job with Becton, coming off a knee injury, sliding over to right tackle while also keeping his weight in the mid- to high 300s and trying to escape Saleh's doghouse. No team gets into more intra-organizational turf wars over first-round picks than the Jets, which by midseason could end up with a former Seahawks castoff regressing to the mean as Zach Wilson's blindside protector and Becton on the trade deadline rumor mill instead of on the field.
Conor McDermott, part of the Jets' All-Depth Chart Confusion Team (Zach and Garrett Wilson; Quinnen and Quincy Williams; running back and defensive back Michael Carter; Connor McGovern and Conor McDermott) could end up at right tackle if the Becton situation goes full Jets.
Newcomer to Obsess Over: Connor Hughes of The Athletic wrote in early July that Sauce Gardner is already the team's best cornerback. 
"He's big, athletic, fast, and possesses legitimate ball skills," Hughes wrote. "He got noticeably better each practice. It won't be long before he's entrenched as the team's starter."
Sure, the Jets love the fourth overall pick now. In two years there will be rumors that they don't like his contract expectations or preferred brand of shampoo or something.
Walkthrough was surprised to not find many minicamp quotes from new tight end C.J. Uzomah. Rest assured that he'll be a favorite of the Jets press pool once availability picks up. Uzomah-versus-Tyler Conklin could have been a "training camp battle to watch," but really, both are going to end up with a lot of playing time.
Circle-It Date: The Jets should be a fun preseason team. Halloween hero Mike White will be trying to win the backup job from Joe Flacco. Denzel Mims is trying to stay in the team's plans as a WR4. First-round picks Sauce, Garrett Wilson and Jermaine Johnson all need to get their feet wet. There's a non-zero chance that Becton will be subjected to fourth-quarter shaming. Jets-Eagles on Aug. 12 will be our first look at the rebuilt Jets. History tells us it will be all downhill from there, so breathe in that new car smell while it lasts.

For more updates check below links and stay updated with News AKMI.
Life and Style || Lifetime Fitness || Automotive News || Tech News || Giant Bikes || Cool Cars || Food and Drinks

Source