Travel
1 Month Old: China's New Zhaosu Tianma Airport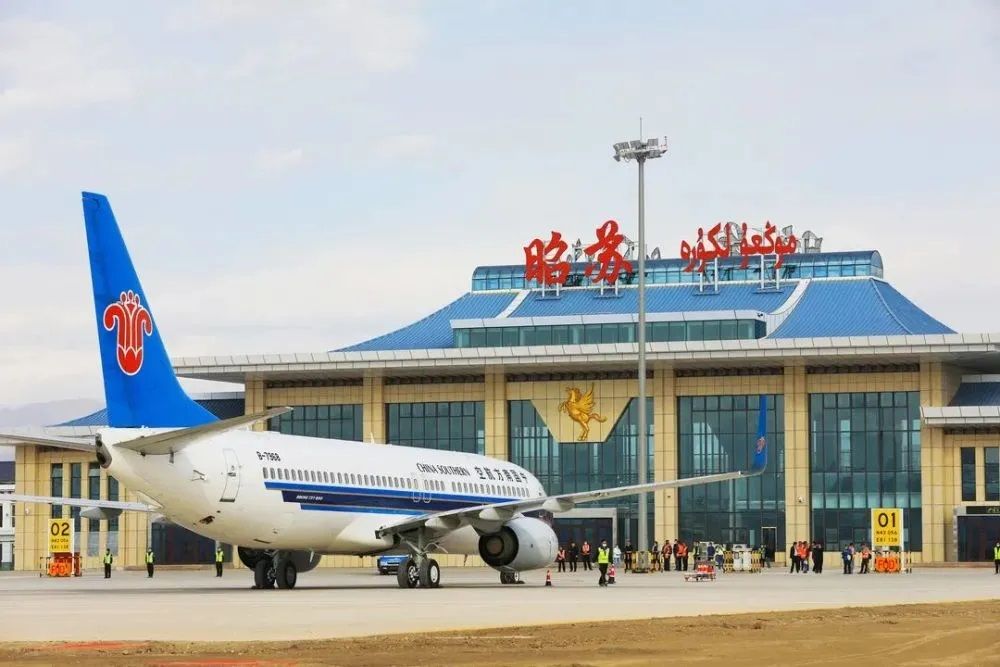 On Apr 22nd, China Southern's CZ6681 landed at Zhaosu Tianma Airport after an hour and a half's flight from Urumqi, the capital city of Xinjiang Uygur Autonomous Region. This was also the first commercial flight to land since the airport was put into operation. China Southern has scheduled three flights a week from Zhaosu to Urumqi.
Zhaosu County is a border county next to Kazakhstan. The county has a population of about 180,000, and it's a multi-ethnic community. In Chinese, the airport's name, "Tianma," means "sky horse." The reason for the name is that Zhaosu has been known for breeding military horses since ancient times.
The "sky horse" sculpture stands in front of the main entrance of Zhaosu "Tianma" airport. Photo: Zhaosu media center
Zhaosu Airport is the 23rd airport to be put into operation within Xinjiang, helping the province further expand its lead in terms of the number of airports in operation in China. Its closest contender is the Inner Mongolia Autonomous Region, which presently has 19 airports.
This graph shows 23 airports scattered in Xinjiang which already in operation. The red dot indicates the Zhaosu Tianma airport, the newest one. Photo: Simple Flying
Zhaosu Airport is also the first plateau airport with an altitude of 1,739m (5,705ft) within Xinjiang. Civil Aviation Administration of China (CAAC) regulation defines the airport altitude of above 1,500m (4,921ft) as a plateau airport and above 2,438m (8,000ft) as a high plateau airport. And, according to the latest news, Xinjiang's first high plateau airport, Taxkorgan Khunjerab Airport, has completed its test flights, also by China Southern, recently on May 19th, which means it will be put into operation in the near future.
Before the airport was built, the local passenger that wanted to travel to Urumqi, needed to take a bus to the regional capital city Yining, and then fly or take a train from Yining to Urumqi (both more than six hours) or directly by bus from Zhaosu to Urumqi (around 12 hours). Now the direct flight will only take them one and half hours.
Now local citizens could save a significant amount of time by flying directly from Zhaosu to Urumqi, rather than taking a bus to the regional capital Yining and then flying or taking a train to Urumqi. Photo: Zhaosu media center
Zhaosu Tianma Airport is constructed to meet an annual passenger throughput of 200,000, a cargo throughput of 600 tonnes, and a take-off and landing capacity of 2,600 flights by 2025. The investment for building the airport is around 640 million Yuan (about 98.9 million US dollars).
Zhaosu Airport's building history
The site selection of Zhaosu airport started as early as 2012. In September 2014, the CAAC approved the Balkesu Site as the recommended site for Zhaosu Airport.
In 2016, the Zhaosu Airport project was included in CAAC's 13th five-year plan for the development of China's civil aviation, which means the project officially entered the national planning level. And in February 2018, the project was approved by the State Council of China. People's Government of Ili Kazakh Autonomous Prefecture commented after the project was approved by the central government,
"After the completion of Zhaosu Tianma Airport will further improve the transportation infrastructure conditions of Zhaosu County and surrounding areas, improve the rapid response capacity to deal with emergencies, and play an important role in promoting the rapid development of regional economy, consolidating border defense, maintaining social stability and enriching border areas and people."
In 2019, the airport was officially named "Tianma" and started construction. Two years later, on Sep 24th, 2021, the flight test for verifying the flight procedure was successfully carried out by China Southern's B737-800, which cleared the way for commercial operations.
China Southern's B737-800 successfully conducted the flight test for verifying the airport's flight procedures on Sep 24th, 2021. Photo: Zhaosu media center
What do you think about the future of civil aviation in Xinjiang?
Did Southwest Ask For A Modification To A 737 MAX To Deceive The FAA?
Read Next
For more updates check below links and stay updated with News AKMI.
Life and Style || Lifetime Fitness || Automotive News || Tech News || Giant Bikes || Cool Cars || Food and Drinks

Source