Travel
A Guide To Flying With Bicycles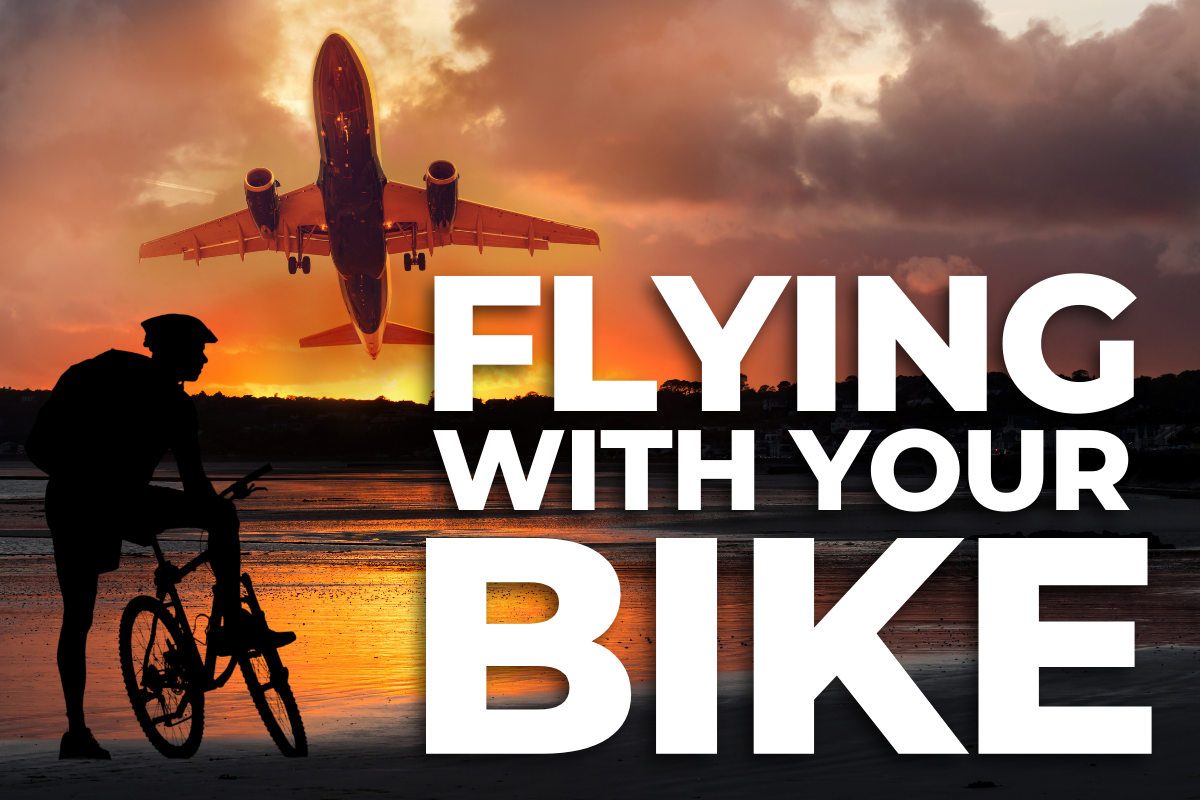 A thorough review of how to fly with a bicycle to and from your destination. Complete with a table of major airlines' policies.
Ever wondered if you can take your bicycle as luggage? Maybe you're flying to a place with lots of cycling trails or bike lanes, and would rather use your own kit than a hired ride. Since there are no bicycle racks on aircraft, the carry-on bins are too small to accept full-size bicycles, and the flight attendants would not appreciate any space in their relatively small galleys replaced by bicycle racks; this guide answers the question: What can be done about taking a bicycle on a commercial flight?
Put your bicycle in the luggage?
Yes, you can disassemble your bicycle and bring it on your trip as checked luggage. You can, for instance, place your dissembled bike into a cardboard box.
Many travelers have not just done that, but have also videoed the process for YouTube. One YouTuber thoroughly documented his process using a cardboard box and supplemental materials to dissemble his bicycle for shipping:
There are also bike sacks that are unique bags intended to stash a dissembled bicycle. A cursory review of Amazon shows that they're currently available for less than $75 US. One also can check with an airline about their carry-on size and attempt to find a bag smaller than the permitted maximum.
Alternatively, if someone is up to investing hundreds of US dollars, one can use a hardened bike case. But those cases add weight and risk making the total weight beyond what an airline can handle.
A table of airline policies on checking bicycles
Below is a table of significant airlines' policies on checking bicycles for your flight for your reference. This information is, as of late May 2022, pulled from the airlines' websites built on work from The Planet Edit:
| | | | | |
| --- | --- | --- | --- | --- |
| Airline | Bike Fee | Max Weight | Max Dimensions | Notes |
| Air Canada | $50 | 70lb/32kg | 292cm/115in total dimensions | Bike should be registered at the time of booking and must be packed in a hard-shell bike case. The case should contain no other items. Each bicycle counts as one piece of baggage towards the maximum number of checked bags allowed by your fare type. Plus, it's accepted on a space-available basis only. The fee applies to one-way flights and for each way of travel on round-trip and multi-segment flights. |
| Air France | Varies, based on distance | 50lb/23kg | 118in/300cm total dimensions | Requires approval at least 48 hours before flying. Any battery over 160 watts is not allowed onboard any Air France aircraft. Cardboard boxes suitable for bicycles (175 x 21.5 x 86 cm) are on sale at Air France check-in counters at most airports. |
| Air New Zealand (ANZ) | $25 NZD | 50lb/23kg | 62in/158cm total dimensions | For NZD 25 at a New Zealand airport, Air New Zealand will sell you a bike box with dimensions of 80cm x 144cm x 31cm. |
| Alaska Airlines | $30 | None | | The fee is for the first bag. If having another piece of checked luggage for any reason, that second piece is $40, and further checked bags, if allowed, are $100 per bag. |
| All Nippon Airways/ANA | Free if below limit | None | 61in/157cm total dimensions | There is a fee if the aircraft and/or flight route requires it between 62in/158cm and 115in/292cm. |
| American Airlines | No fee | 50lb/23kg | 61in/157cm total dimensions | If bike is overweight/oversized, there will be a fee of $150. |
| British Airways | No fee | 50lb/23kg | 75 x 37.5 x 25.5in/190x75x65cm total dimensions | Call at least 72 hours ahead of time to confirm your bike reservation. |
| Delta | No fee | 70lb/32kg | 61in/157cm total dimensions | If bike is overweight/oversized, there will be a fee of $150. |
| EasyJet | £42 | 70lb/32kg | Unclear | Bike falls under "large sports equipment." There is only one piece of sports equipment per passenger, up to 6 passengers per booking. |
| Emirates | No fee | 44-77lb/20-35kg depending on class | 118in/300cm total dimensions | Bike must be registered at least 24 hours before the flight. |
| Japan Airlines (JAL) | Varies | 70lb/32kg | 80 in/203cm total dimensions | If boarding a 737, the max length is 39 in/100 cm. |
| JetBlue | No fee | 50lb/23kg | 61in/157cm total dimensions | If bike is overweight/oversized, there will be a fee of $50. Bicycles are not accepted on flights to/from the Dominican Republic, Haiti, Peru and Port of Spain. BUT bicycles are accepted on flights to/from Cuba if they are in plastic, hard-sided, padded case designed for bicycles and no more than 70 pounds/32 kilograms and 80 linear inches/203 centimeters (length + width + height). |
| Jet2 | £30 | 70lb/32kg | 71X35in / 182x91cm | Register bike in advance. |
| Korean Air | Varies | None | 115in/292cm | One bicycle is one piece of checked baggage, and the fees for checked baggage vary based on seating class & destination. |
| Lufthansa | No fee | 50lb/23kg | 110in/280cm total dimensions | Must be in a self-provided bicycle case. Can ship per person 1 standard bicycle (non-motorized/no e-bikes) OR 1 children's bicycle trailer OR 1 unicycle as part of your checked baggage allowance set by seating/travel class. |
| Qantas | No fee | 70lb/32kg | 55x11x31in / 140x30x80cm | Must be packed in a bike box. |
| Ryanair | €/£60 | 66lb/30kg | Unclear | Must be packed in a box or protective bike bag. Plus, if checked in person and not online, the fee goes up to €/£75. |
| Southwest | $75 if beyond a certain size | 100lb/45kg | 80 in/203cm total dimensions | If less than 51 pounds/23 kilograms in weight and 62 inches/157 centimeters or less in overall dimensions, the bicycle can count towards free checked luggage. If beyond that, the bicycle must be nonmotorized and single seat properly packed in a bicycle box or hard case from 51 to 100 pounds in weight or 62 to 80 inches in total dimensions. |
| Spirit | $75 | 100lb/45kg | 80 in/203cm total dimensions | To ship a bike, it's checked baggage with an additional charge. To add a bicycle to your reservation, you must use a Spirit reservation center or visit a Guest Service Agent at the airport. |
| United | $35 if the first bag, $45 if the second bag | 50lb/23kg | 60 in/152cm total dimensions | Will accept as checked baggage at the airport check-in counter only nonmotorized bicycles. Standard checked baggage fees, as well as overweight service charges, still apply. |
| Virgin Atlantic | Depends on seating class | 23kg | Unclear | If bike is overweight/oversized; there will be a fee of £65+. |
| Westjet | Varies | 100lb/45kg | 115in/292cm max | Will want to check the WestJet website for the exact fees as that varies due to seating class and destination. |
It is worth noting that in a late May 2022 review of these airlines' policies, a few common themes stood out:
eBikes and electric bicycles are generally not allowed
You can only pack your bicycle and a helmet into a bike box or bike bag. Special privileges for shipping bicycles as listed above will be revoked if you also pack clothing
Again, you need to disassemble your bicycle and pad the bike sufficiently to protect it from damage in transit
It is recommended to deflate your tires partially
You want to plan on advising the airline you are checking a bicycle at least three days/72 hours in advance
Ship your bicycle instead?
One could always ship a bicycle at a shipping store via United Parcel Services (UPS) or Federal Express (FedEx). For instance, FedEx has a bike box that measures 54″ x 8″ x 28″ and can be purchased at FedEx Office locations to disassemble your bike with a maximum weight of 95 pounds/43 kilograms. Again, you will have to unpack your bicycle and understand that packages get jostled in handling, whether by airline ground crew or a transport company's personnel.
In conclusion
Yes, you can take your bicycle on a flight and back. Many airlines of significance specifically spell out bicycle carriage in their luggage policies. You can use a cardboard box, bicycle bag, or even a hard case. Yes, you may also use shipping services to ship your bicycle to meet you when you arrive at your destination and ship home. But be prepared to pay for the privilege of taking your bike with you on your travels.
Source: The Planet Edit
For more updates check below links and stay updated with News AKMI.
Life and Style || Lifetime Fitness || Automotive News || Tech News || Giant Bikes || Cool Cars || Food and Drinks

Source