Travel
How Far Do Flight Attendants Walk During An Average Shift?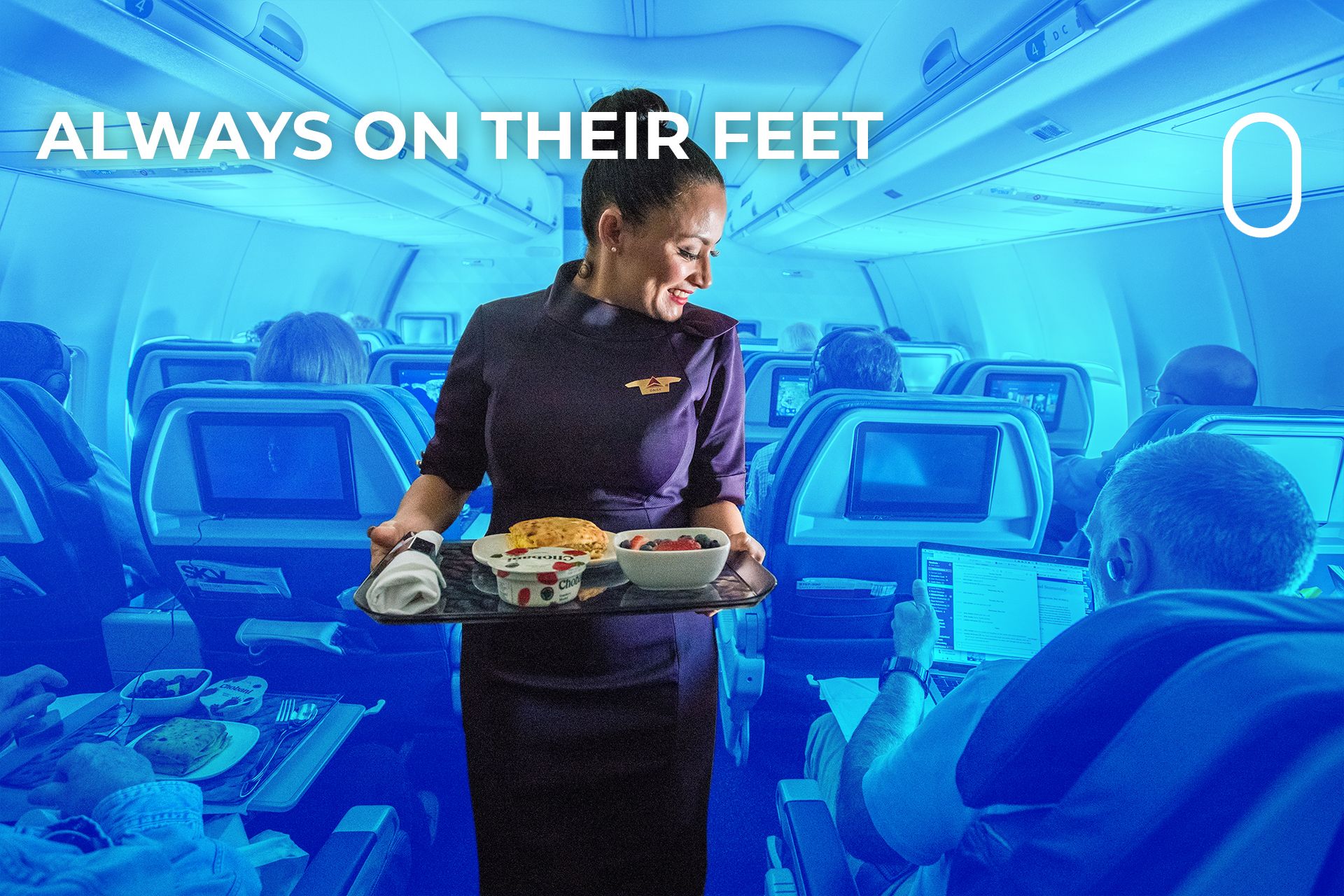 We know that flight attendants are on their feet, most of their working time. Not just in the air but also on the ground, prior to duty and after duty, whether it is in the hotel lobby or walking through the airport. It also depends on the type of flight and how long it is. Let's see how far a flight attendant might walk.
Facts
There have been studies over the years in flight attendants and their work patterns and fatigue. A wide range of crew members across all types of airlines, different aircraft types, working all kinds of routes. They were asked to wear a pedometer for purposes of measuring activity. The average flight attendant takes between 14 and 16 steps per minute.
Altitude
Of course, working in the cabin at altitude adds extra pressure on to the body, it is the equivalent to working on a mountain. The average altitude for an aircraft is 30,000-40,000ft, but cabin pressure is set between 5,000 -8,000ft. Added to that the work is physically demanding and pulling and pushing the heavy meal carts around is tough work.
Shoes
It is also interesting to note that fatigue levels and distance walked is also affected by the type of shoes worn. Many airlines have uniform standards and shoes must be of a certain heel height and be the same color and design. The most important thing is that they are comfortable. Shoes with higher heels are known as 'ground' shoes and are worn at the base, at the airport, at the hotel, etc. The flatter shoes are known as 'cabin shoes' and are changed into after take-off and before landing. However, this is starting to change with airlines such as Akasa Air, SkyUp Airlines and Bonza opting for sneakers as uniform shoes.
Short-haul shuttle
So let's take an average multi-sector day – London Heathrow Airport to Paris Charles De Gaulle Airport. These are fast and furious, with barely a moment to think and service has to be fast! That's a one-hour 20-minute flight, done 4 times with 3 turnarounds (time on the ground, preparing for the next flight). Add on report time and post-flight duties or walking through the airport. That's around 10 hours at 900 steps an hour, so 9,000 steps. That's 6.3 km or the distance or 1.6 lengths of Heathrow's northern runway.
Mid-haul holiday
A holiday flight from London Gatwick to Larnaca, Cyprus. It's a demanding and busy flight, with not much time to take a break. That's a 4-hour 30-minute flight with turnaround and back again, so around 10,800 steps. A total of 7.6 km or almost 2 lengths of New York's Central Park.
Long-haul
Let's take a look at London Heathrow to Singapore. Again a busy flight with lots of beverage services, 2 or 3 meal services and snack services. It's a 13-hour flight, although a flight attendant would get a few hours of crew rest on this one. So taking out rest time that's 11,700 steps. Although, the airport is a long walk! That's over 8 km and 3 lengths of the Golden Gate Bridge.
Conclusion
Of course, this is by no means definitive and only an estimation. One American flight attendant tested her pedometer on a flight from Los Angeles to New York and achieved 10,000 steps. It is certainly a job that keeps you fit (if you can escape the jet lag of long-haul flights). Flights and fatigue are variable, as much as how many passengers are onboard and the length of the flight. One thing is assured, from the moment the seatbelt sign goes off, we'll be on our feet all flight. We even eat our crew meal standing up!
For more updates check below links and stay updated with News AKMI.
Life and Style || Lifetime Fitness || Automotive News || Tech News || Giant Bikes || Cool Cars || Food and Drinks

Source