Travel
Man Posted Himself From Australia To UK On Pan Am: Seeks Friend Who Nailed His Crate Shut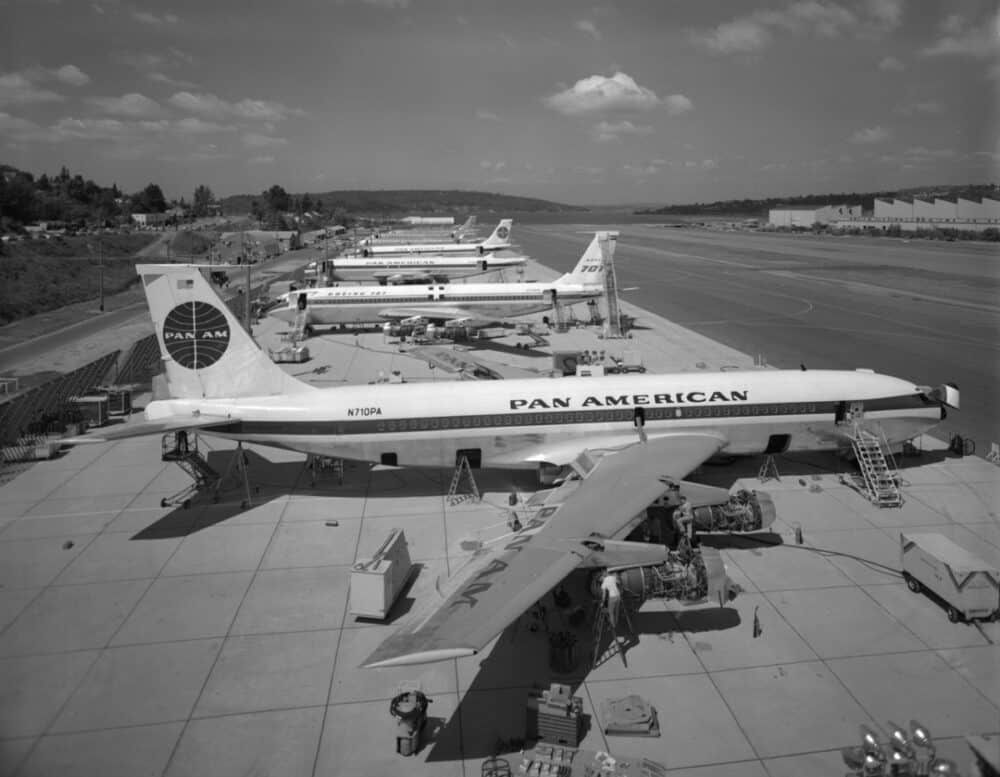 Brian Robson, renown for his unconventional travel preferences, is still on the search for one of the two men that helped him with his daring journey from Melbourne to London.
Cattle class?
Having traveled to Australia on an assisted immigration program with Victorian Railways in 1964, Robson quickly found himself homesick for Cardiff. With £700 to pay off under the scheme and a meager monthly wage of just £40 (around £575 adjusted for inflation), the 19-year-old devised a daring journey to ship himself home using cash on delivery airfreight.
With the help of two Irish co-workers and friends, known just as Paul and John, Robson was able to squeeze himself and his suitcase into a crate the size of a mini-fridge to be loaded onto a Qantas airline flight with a flashlight and book of Beatles songs to keep him occupied.
Robson faced extreme weather and dwindling oxygen during the 96-hour-long journey, with aviation professionals noting how lucky he was to survive. Photo: Getty Images
While the initial journey was expected to take around 36 hours, the Qantas flight was full, and Robson was unknowingly placed onto a Pan Am flight taking a much slower route.
In an interview with The Irish Times, Robson explained the ordeal. Though he was not expecting luxury travel, "It was quite a horrific experience, in truth," he told the newspaper.
Robson experienced extreme temperatures within the aircraft's hold, with the crate even being dumped upside down several times. Four days after his departure from Melbourne, he was finally unloaded into a freight shed. Unfortunately, the freight shed was in Los Angeles, 5,500 miles from his intended destination.
After inadvertently drawing the attention of airport staff to his crate thanks to his flashlight, Robson was swiftly taken into the FBI's custody, potentially facing charges for an illegal entry into the United States.
"My two friends and I didn't know whether my plan was legal or illegal, quite honestly, so I agreed that I would keep their names out of it completely, which I did," he noted.
Doctors had explained to him that if he were to have continued his journey to London, it was unlikely he would have survived, Robson told The Washington Post in a separate interview.
He was released by US authorities after several days and placed on a Pan Am flight to London, this time in a much roomier first-class seat.
Robson was finally reunited with one of his friends in 2021, however, they are still on the hunt for the other man. Photo: Getty Images
Searching for Paul and John
Robson recounted the experience in his 2021 semi-autobiographical novel, The Crate Escape, with subsequent media attention reconnecting him with one of his friends who had since returned to Ireland.
The reunion was able to straighten out some of his worries, having received no reply to the letter he mailed to them upon his return to Wales.
"The reason I did not get a reply to my letters is that they didn't receive them. It was rather pleasing because at one stage I thought they didn't want to talk to me, but that's not true at all. Quite the opposite," he added.
The two men are still looking to find the other man, believed to still be in Australia, though Robson admits, "We don't know 100 percent where he is, to be honest. He could be anywhere."
What do you think of Robson's journey? Let us know in the comments.
Sources: The Irish Times (1), The Irish Times (2), The Washington Post, Wales Online
Gorgeous: Dassault's Falcon 10X Wins Awards For Stunning Cabin Design
Read Next
For more updates check below links and stay updated with News AKMI.
Life and Style || Lifetime Fitness || Automotive News || Tech News || Giant Bikes || Cool Cars || Food and Drinks

Source