Travel
The Aeromexico Fleet In 2022: An All-Boeing Airline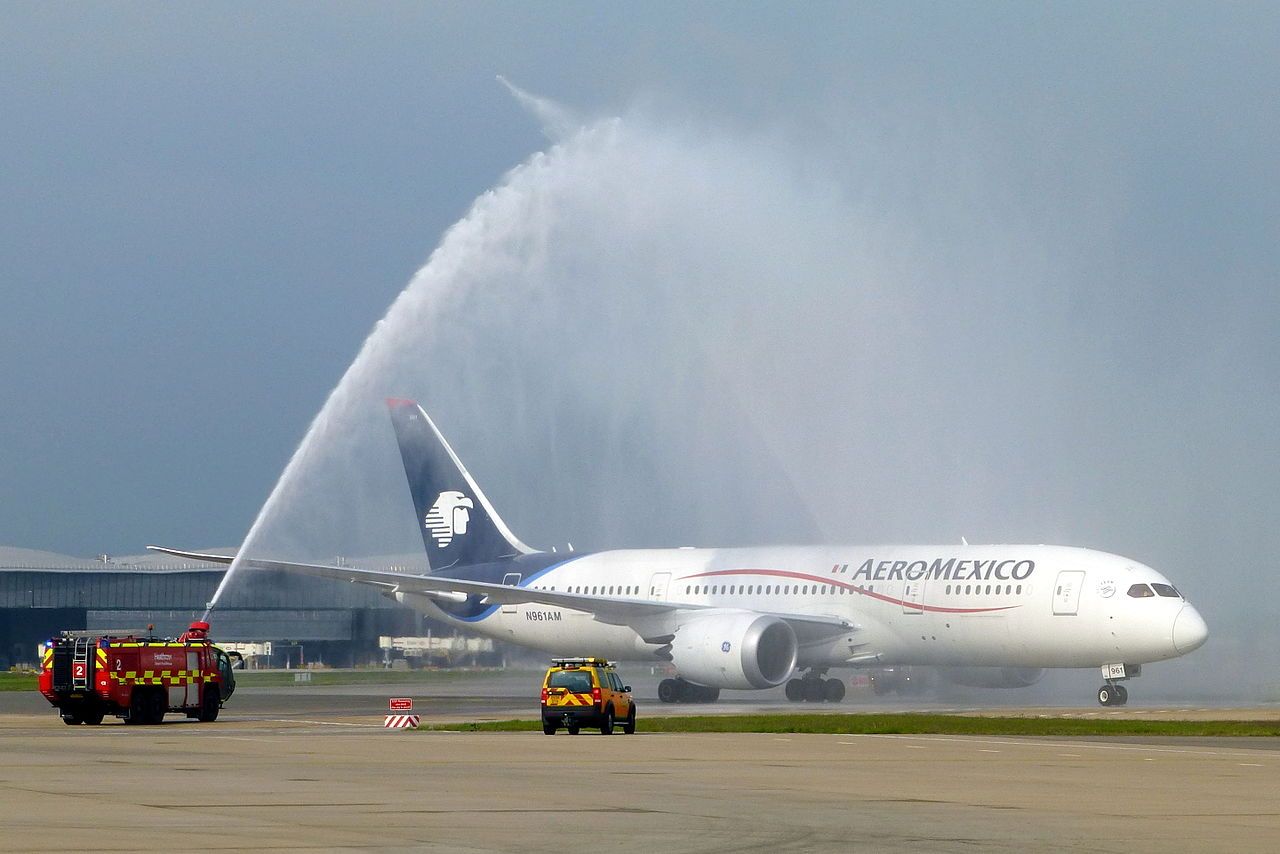 Now, in 2022, the Aeromexico fleet stands at over 100 aircraft – or 103 to be precise (at least at the time of this article's publication). While many full-service airlines around the world operate a mix of both Airbus and Boeing jets in their mainline fleets, Aeromexico seems to be one of the few non-budget airlines to be all-Boeing. This is demonstrated by its two-type fleet of Boeing 737s and 787s. Today, let's see what else makes the Aeromexico fleet special.
Before we fully jump in, we should note that this article's focus is on the mainline fleet of Aeromexico. This means that we won't be discussing the airline's regional subsidiary, Aeromexico Connect, which has a total of 43 Embraer ERJ-190 aircraft. While flying under the brand Aeromexico Connect, the technical and legal name for this regional operator is Aerolitoral.
Boeing 737 fleet
But when it comes to the airline's mainline narrowbody fleet, we see that it currently has 85 jets with an average age of nearly seven years – all of these are Boeing 737s. However, despite the narrowbodies all being one type, there is a little more diversity in 737 variants. The breakdown of the 85 737s is as follows:
5x 737-700s with an average age of nearly 18 years
36x 737-800s which average just over 10 years
32x 737 MAX 8s which are roughly three years old
and 12x 737 MAX 9s, which are about one and a half years of age
If we examine the breakdown and the average age of these variants, we can see that the overall 737-fleet age is rather deceiving. In reality, this collection of Boeing 737s is either somewhat old, or somewhat new, as the -700s greatly pull down the average while the MAX jets skew things in the opposite direction. Even within the "older" -700 and -800 sub-fleets there is quite a bit of age diversity, with the youngest -800s being just five years old while its oldest -800s being 16 or 17 years of age.
A big step in modernizing its narrowbody fleet, the 737 MAX jets were ordered in 2012. This was an order for 60 MAX 8s and 9s, with reconfirmation rights for an additional 30. At the time, the order was valued at more than $6 billion at published list prices. Unfortunately for Boeing, this order would not remain in its original state. Indeed, as a result of the pandemic and resulting Chapter 11 bankruptcy proceedings, the airline cut its 737 MAX order in half, going from 60 to 30.
Commenting on the change to the order, Aeromexico's CEO, Andreas Conesa, commented that the "transaction" gave the airline flexibility to complete other negotiations while putting it on a "strong path" to exit Chapter 11. On the other side of the transaction, Boeing stated the following:
"Aeromexico is a valued Boeing customer, and we are pleased to reach an agreement that will allow the airline to adjust its order book to meet its business needs during the travel recovery ahead. We are honored that Aeromexico has reaffirmed its commitment to both the 737 MAX and 787 Dreamliner as the carrier builds its future fleet."
After this order alteration, Aeromexico entered into a new long-term aircraft lease agreement with Dubai Aerospace Enterprise (DAE) to take delivery of up to 12 new Boeing 737 MAX aircraft.
18 Boeing 787s
Moving up in size, the Aeromexico widebody fleet currently consists of 18 787 Dreamliners having a relatively youthful average age of six years. This further breakdown to the following:
8x 787-8s with an average age of eight years
and 10x 787-9s which average nearly five years
Acquired to replace the airline's Boeing 767-200ER and 767-300ER fleets from 2014, the airline received its very first Boeing 787 (a -8 variant) back in 2013. These early jets were acquired via a lease agreement, with the first -8 coming from International Lease Finance Corporation (ILFC). Aeromexico would go on to place an order for a number of -9s as well.
Naturally, the airline uses these aircraft for its longest flights. Despite Aeromexico having a fleet similar in size to Dutch airline (and fellow SkyTeam Alliance member) KLM, the carrier only has operations in three continents: North America, South America, and Europe. Thus, we find the airline's Dreamliners flying to the following cities: London, Amsterdam, Paris, and Madrid in Europe, and Sao Paulo, Santiago, and Buenos Aires in South America. It also appears that Aeromexico deploys the 787 on one North America route: Mexico City to New York JFK. While Aeromexico operates service between these cities three times per day, the 787 is only used on two out of the three daily flights.
Unfortunately, Aeromexico is yet another airline caught up in Boeing's Dreamliner delivery delay. While it looks like the US planemaker is once again able to deliver 787s to customers after a 15-month-long pause, it will take Boeing some time to get all of its now-built-but-undelivered widebodies prepared and ready for its eagerly waiting customers.
In the case of Aeromexico, ch-aviation data indicates that the airline is expecting to receive four more Dreamliners – all of these being the longer 787-9. Two of these aircraft appear to have already been built. BOE Family Flights data shows that these two aircraft are as follows:
XA-SSS (MSN 62148, Line Number 1079), which had its first flight in January 2021 and has been stored in Victorville since October 2021.
and XA-RRR (MSN 62147, Line Number 1067), which had its first flight in November 2020 and was moved to Victorville in August of 2021
As we've noticed through our fleet deep dive articles, quite a few airlines are waiting for 787s. These include carriers like Lufthansa, Qantas, Korean Air, WestJet, and many more. With American Airlines recently receiving the first "post-delivery-halt" 787, hopefully it won't take Boeing too long to get all of its already-built Dreamliners inspected, prepared, and flown out of storage.
Aeromexico alumni
While its natural for any airline to retire and phase out older aircraft, Aeromexico decided to remove one of its Dreamliners from the fleet. Likely a result of the pandemic and severe travel restrictions, the Aeromexico 787-8 registered N961AM was transferred from the airline over to Comlux Aruba after a few months of storage at Phoenix Goodyear airport (GYR). With a new operator based in a different country, the jet took on the registration P4-787 and has its home bases stated as both Buenos Aires and Madrid.
Since Comlux is a VIP charter service, we would have expected a significant change in the seating configuration of P4-787. However, the aircraft's new operator appears to have simply removed a few seats, moving from 211 economy seats to 205 seats. The 32 business class seats, which Comlux calls "executive," appear to have remained intact and unchanged. And it's not just the aircraft's interior that has largely stayed the same. Indeed, its exterior has mostly remained the same as well, sporting Aeromexico's mostly white fuselage and dark blue tail (as well as the red line that runs from the front to the middle). It's quite clear that Comlux has simply removed the Aeromexico wordmark from the front of the aircraft, as well as the Aeromexico logo on the tail.
In 2021, this former Aeromexico jet set a world record for longest flight ever recorded. Photo: Comlux
This ex-Aeromexico jet has gone into the record books since leaving the full-service airline. In fact, on March 26th, 2021, the jet set a world record for the longest flight ever recorded. The jet spent a massive 20 hours and 19 minutes in the air, departing Seoul in South Korea and flying to Buenos Aires, Argentina. According to Flightradar24.com, the flight had a great circle distance of 19,483km.
Days after the achievement, Simple Flying reached out to Comlux and CEO Andrea Zanetto, who confirmed that the flight was for private clients and wasn't just a test. Zanetto also confirmed the plane had six pilots on rotation with one engineer to keep an eye on the plane. The Comlux CEO said that he was thrilled to undertake the challenge of offering luxury over such a great distance and pointed out that connecting Seoul and Buenos Aires is perhaps the longest route an aircraft can take.
Amusing incident over Amsterdam
A few months before the record-setting flight of an ex-Aeromexico Dreamliner, an Aeromexico 787 service from Amsterdam to Mexico was caught up in an amusing situation. It was on January 17th that the pilot of the flight asked ATC for permission to fly over Amsterdam to get a nice view. The radio recording can be found in the original article (and in the embedded YouTube video below) but here are the highlights:
Pilot: Is there any chance that we can make a visual flight over Amsterdam at 4,000?
ATC: Flyover Amsterdam at 4,000 feet?! Confirm [this is what] you want?
After having the request denied, the pilot responds, "Okay, well, I was thinking because it was near the airport," to which ATC responds, "yes, but then the whole of Amsterdam will wake up," adding "next time you have to visit Amsterdam when everything is open."
Earlier this year we reported that Aeromexico was ready to emerge from bankruptcy proceedings. This major step, combined with a quickly recovering market, will hopefully put the airline and its 100+ aircraft back to work quickly.
Have you flown with Aeromexico before? Share your experiences by leaving a comment.
Sources: Planespotters.net, BOE Family Flights, FlightRadar24.com, PR Newswire
For more updates check below links and stay updated with News AKMI.
Life and Style || Lifetime Fitness || Automotive News || Tech News || Giant Bikes || Cool Cars || Food and Drinks

Source