Travel
What Factors Influence The Planes That Airlines Order?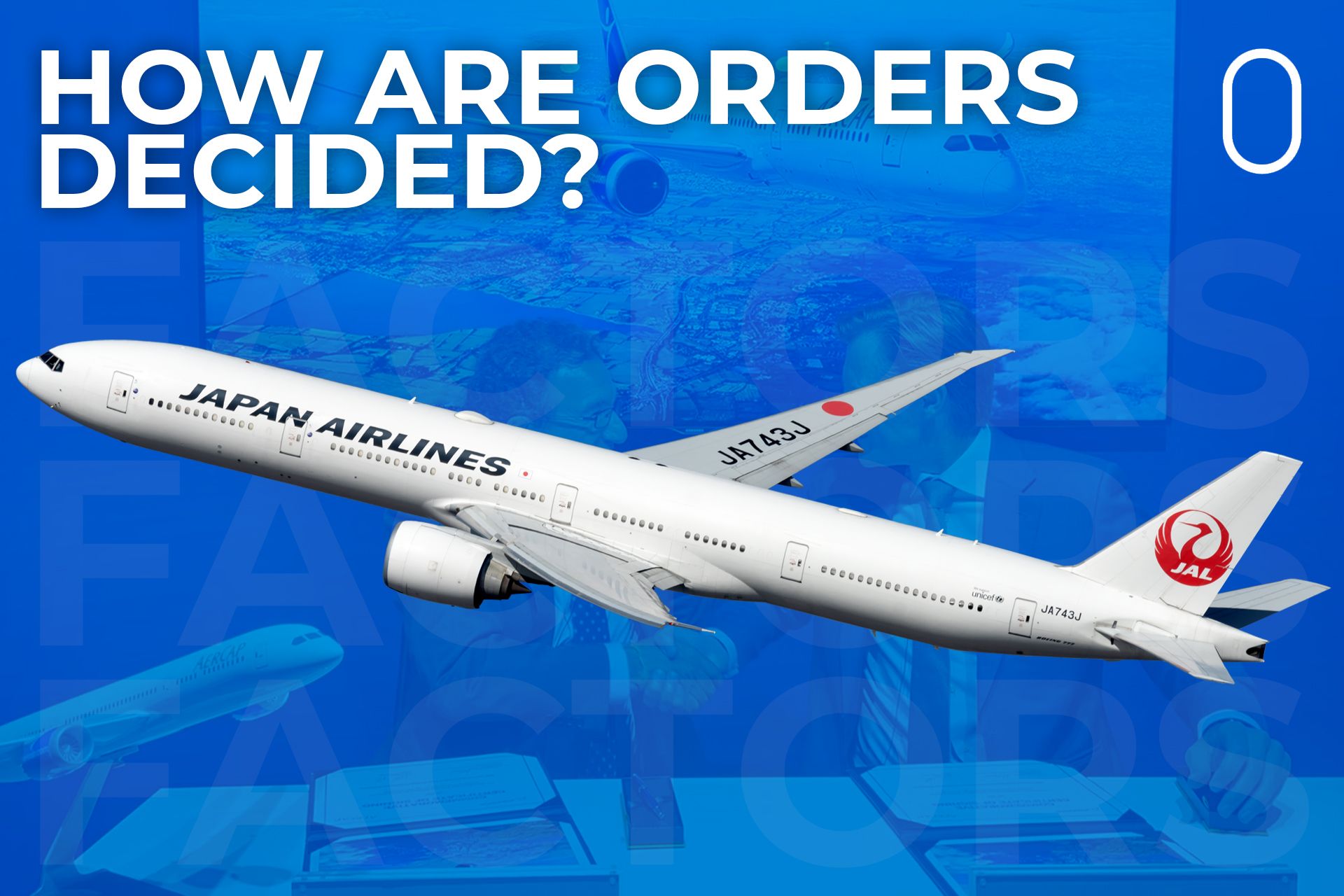 Aircraft orders are an important part of the industry. Manufacturers, of course, want orders for their products. And airlines need the right orders in place at the right time. Ordering and delivering aircraft is not a fast business – so plans must be made ahead to meet demand and minimize risk. Obviously, factors such as aircraft specification and performance are important. The aircraft ordered needs to be able to handle the routes and conditions planned. But there is more to consider about fleet, aircraft price and value, and aircraft operations.
Airline demand and forecasts
It may seem obvious, but the first factor to consider is the need for new aircraft. You don't buy something you don't need, and nor would an airline. Aircraft orders are placed very much in line with expectations for future demand and routes to be flown. This is often planned many years in advance – the purchase, and subsequent delivery, of new aircraft takes time.
Looking at some of the biggest aircraft orders ever shows this well. One of the largest single orders from an expanding airline recently was from the Indian airline IndiGo. It placed an order in 2019 for 300 A320neo family aircraft. This order came at around the time it became the largest airline in India and was to support its expansion plans. The order included the Airbus A321XLR for new longer-range flights.
IndiGo is one of the world's fastest growing low-cost carriers. Photo: Getty Images
Lion Air is another rapidly expanding airline that has placed a very large order. It ordered 201 Boeing 737 MAX aircraft and 29 Boeing 737-900 aircraft in February 2012. As of August 2022 (and based on data from ch-aviation.com), the airline has 82 active aircraft, with a further 233 on order to support its future expansion hopes.
Looking at it the other way, low forecast demand was also apparent at the recent Farnborough International Airshow. The show saw much lower sales volume than in past years – just over 500 aircraft in total, compared to over 1,400 at the last show in 2018.
Orders at Farnborough were significantly lower than past years – especially for widebody aircraft. Photo: Tom Boon | Simple Flying
Clearly, this was affected by the current aviation market and uncertainty over the future. There was one large order from Delta Air Lines for the 100 Boeing 737 MAX 10 aircraft and a re-confirmation from easyJet for 56 A320neo aircraft. Other orders were smaller, though. Widebody aircraft orders, in particular, were missing. There were a handful of Boeing 787 aircraft ordered, but nothing major. This shows well the nature of airline orders. Existing and long-placed widebody orders are more than enough, and the current uncertainty leaves few airlines planning expensive changes.
Retiring aircraft from the fleet
Linked to future demand is the need to replace aging aircraft. Airlines don't need to be growing to order new aircraft. Existing aircraft in the fleet age. Older aircraft become more expensive to maintain and less reliable to operate and will be replaced. Airlines consider several factors when retiring aircraft. Operating cost is a main one, but also global factors,efficiency, and technical changes.
We have seen this recently, and in many cases too early, with the Boeing 747-400. This much-loved aircraft has now been largely retired from airline fleets. As is typical with many retiring aircraft, some will remain in service with smaller airlines, cargo operators, or charterers. These companies may be more willing to take on older aircraft, but leading airlines will prefer to maintain a more reliable, younger fleet.
Such replacement orders are often planned well in advance. Consider Emirates' huge Boeing 777X order, for example. This was the largest aircraft order in recent times. It's 2013 order for 150 new Boeing 777X aircraft was valued at $76 billion (the order has since been reduced). These will replace retiring aircraft in its current fleet, but not for some time. When the order was placed, aircraft were expected to enter service in 2020. With ongoing delays to the 777X program, it will be at least 2025 before it gets any aircraft.
Emirates has a huge future 777X order. Photo: Boeing
American Airlines also placed one of the largest total orders in recent times – largely to replace aging aircraft. In 2011, the airline announced orders for 460 new narrowbody aircraft – 260 Airbus A320 and 200 Boeing 737 family aircraft.
Current fleet and aircraft commonality
Operational considerations for aircraft are another important factor. Airlines need to schedule aircraft on different routes, have pilots and cabin crew available for aircraft, and handle light and heavy maintenance. These operational aspects are simplified with a more streamlined fleet. Operating several different types of aircraft may have advantages for certain routes or loads but will add operational complexity.
Having aircraft of the same type simplifies maintenance contracts and aircraft scheduling. It also, critically, enables flexible crew deployment. Note that many aircraft share the same type rating for pilots (such as all the 737 family aircraft, all the A320 family, and the Boeing 757 and 767).
A number of airlines take this to the extreme with just one aircraft type. For example, Southwest Airlines, easyJet, and airBaltic, all operate single type fleets. You are unlikely to see these airlines order other aircraft types without a major strategy re-think.
SouthWest operates a fleet of all Boeing 737s. Photo: Getty Images
There are departures from this, though. Delta Air Line's large Boeing 737 MAX 10 order (for 100 aircraft with 30 further options) at the recent Farnborough Airshow is one recent example. This was the first significant Boeing order from Delta Air Lines in over 10 years and its first adoption of the 737 MAX. It already operates the Airbus A220, A319, A320, A321, and the Boeing 717, 737-800, 737-900, and 757.
Delta's 737 MAX order adds the MAX to its fleet.  Photo: Justin Hayward | Simple Flying
Stay informed: Sign up for our daily and weekly aviation news digests.
Price – and deals with manufacturers
The price paid is important when you buy anything, and it's the same for airline orders. All aircraft have a list price quoted by the manufacturer, and airlines will consider this alongside alternatives with similar specifications. Existing relationships with manufacturers and discounts/offers for larger orders are important here.
In practice, however, airlines rarely pay the full list price for new aircraft. This is standard practice in the industry and happens for a number of reasons. This includes taking into account inflation (with aircraft orders often placed many years before delivery), currency fluctuations, future price changes (in either direction), and, of course, allowing attractive discounts or volume pricing as part of negotiations.
The exact price paid is not always disclosed. However, Airbus has to quote the net value of their orders under tax rules. Simple Flying took a look at these numbers pre-COVID (for 2018), with the manufacturer offering an average discount of around 50% off the list price.
Airbus offers an average 50% discount off list price. Photo: Airbus
Aircraft re-sale value is often an important consideration too. Many airlines will renew aircraft while they still have operational life left and will want to think about type and configuration for potential future re-sale.
There are plenty more factors that affect airline orders for aircraft. Some of these are common to all airlines, while others may be more specific for certain airlines or regions. We have looked a just a few here. Feel free to bring up others and discuss them in the comments.
For more updates check below links and stay updated with News AKMI.
Life and Style || Lifetime Fitness || Automotive News || Tech News || Giant Bikes || Cool Cars || Food and Drinks

Source