Health
Exploring the vital roles of hospital and community social workers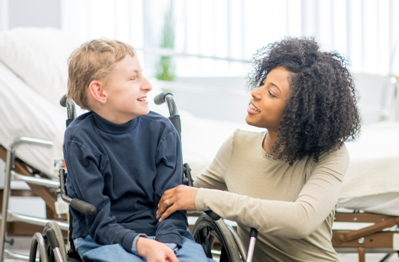 In the complex network of our society, social workers represent strong pillars of support, compassion, and change. These dedicated professionals are the guiding lights that navigate individuals, families, and the community through various challenges, offering essential services and a consistent presence in times of need.
As onewould expect, the multifaceted realm of social work requires a comprehensive list of responsibilities before positive outcomes can be felt, particularly within a community and hospital setting. As such, this article explores the diverse contributions of social workers in hospitals and communities.
Whether considering a career in the field or simply intrigued by the profound impact of social workers, this articleprovides a comprehensive view into the heart of social work practice and its extensive implications.
Introducing hospital and community social work
Social work is a practice-based profession that aims to deliver social change, development, community cohesiveness, and individual and community empowerment. Professionals in this sector strive to improve overall wellbeing and assist in meeting the fundamental and complicated requirements of vulnerable and impoverished groups. Social workers operate in a variety of contexts — however, the focus of this article is on hospital and community social work.
Hospital social work is a specialized field staffed by professionals that provide support, help, and advocacy to patients and their families in a healthcare environment. Professionals in this field are essential in addressing patients' medical, emotional, and psychosocial needs throughout their medical journey.
As expected, hospital social work is an integral and increasingly prevalent aspect of healthcare systems globally. According to the US Bureau of Labor Statistics, about 74,000 openings for social workers are projected annually between 2021 and 2031. With the employment of healthcare workers also expected to grow by 13%, a significant number of social workers' job openings will be specialized in healthcare.
The prevalence of hospital social work emphasizes the importance of a thorough approach to healthcare, and the demand for skilled healthcare social workers is projected to rise. This trend indicates a more significant movement toward patient-centered treatment in various healthcare settings and scenarios.
On the other hand, community social work focuses on empowering and supporting communities in a social context. This includes tackling social challenges affecting every element that makes up the community, from individuals to families and groups. This specialization aims to put the essential ideals of social work into practice by developing and advocating policies, assessing community needs, creating programs, crisis intervention, and other means.
Community social workers, like patient-centered healthcare providers, recognize the critical role of individuals and communities in effecting the necessary positive change. As a result, they accept the duty of providing assistance and resources, and they instill a sense of empowerment in the community. They also recognize and address the core causes of social issues in a particular location.
Role of social workers in healthcare settings
In broad terms, healthcare social workers help patients and their families navigate the healthcare system and ensure they receive optimal care. However, there are several intricate roles and requirements that hospital social workers implement daily to achieve this goal.Spring Arbor University's Bachelor of Social Work (BSW) prepares students with the core skills needed to excel in these roles, and addresses the surrounding racial and ethnic relations, interactionwith individuals and families and key social welfare policies.
Here are some functions of social workers in healthcare settings:
Crisis intervention and counseling
Medical illnesses bring many difficulties, ranging from physical to social, emotional, and financial strain. These challenges impact patients and their families in many ways, and it is the role of hospital social workers to assist them in coping with these difficulties. One way to achieve this is through crisis intervention and counseling. In this context, medical conditions and injuries all represent a crisis.
Hospital social workers perform this role by assessing the patient's mental, emotional, and behavioral reactions to their conditions or establishing a psychological contract with the patient. Other strategies medical professionals could implement include identifying the root cause of the crisis, helping patients develop coping mechanisms to deal with the problem, and monitoring patients' progress to ensure care continuity.
Hospital social workers are integral in helping patients and their families overcome medical challenges and improve their well-being. With their expertise and skills, they can create practical and targeted strategies that address the varying needs of their clients.
Patient advocacy and support
By implementing the role of patient advocacy and support, hospital social workers can help patients and their families to comprehend their medical condition, cope with their emotions, and make informed decisions regarding their care. This responsibility brings the essence of patient-centered care to the forefront.
Hospital social workers advocate patients' rights and well-being in the healthcare system. Hence, they must strive to ensure that patients are well aware of their options and that their needs and preferences are met and respected. Furthermore, these healthcare professionals are also responsible for assisting patients and their families with the financial, social, and legal aspects of hospitalization, including insurance, employment, housing, and transportation.
Collaboration with medical teams
The need for healthcare professionals to communicate and collaborate cannot be overstated. This responsibility also applies to hospital social workers, who effectively ensure that patients receive the best possible care and support. They often collaborate with doctors, nurses, therapists, and administrative personnel to develop ideal patient care.
In some cases, communicating with a medical team is also crucial to address a patient's emotional and social needs, preferences, and goals. Social workers in a healthcare setting may also participate in interdisciplinary discussions, conferences, and consultations to give their perspective on a patient's situation. Effective collaboration among healthcare providers remains helpful in improving the quality of care and outcomes for patients and their families.
Psychosocial assessment and intervention
A psychosocial assessment evaluates a person's mental health, social status, and functional capacity within a community. For this assessment, professionals gather information about patients' cognitive, social, cultural, and other psychosocial factors that could impact medical conditions and treatment outcomes.
On the other hand, psychosocial interventions are the actions social workers take based on these assessments. It is the responsibility of hospital social workers to carry out these interventions, which include providing emotional support, communication, coordinating care, providing relevant resources, and empowering the patient and their families to make informed decisions. This role also includes advocating social justice and health equity among vulnerable populations.
Discharge planning and transitional care
Aside from immediate treatments, there is also the need for hospital social workers to help patients and their families navigate the complex process of leaving the hospital and returning to their homes. This process depends on patients' and their caregivers' needs, preferences, and resources. Based on this information, they develop support strategies to facilitate a safe and smooth transition.
Some tasks performed as part of discharge planning and transitional care include conducting a comprehensive psychosocial assessment, developing discharge plans that suit each patient, providing education and counseling, recommending quality post-discharge services, advocating patients' rights and interests, and evaluating the outcomes of the discharge plan and transitional care interventions.
Community-based social work responsibilities
A community comprises diverse groups of people, and the foundational goal of community social workers is to unite every member of these groups to work towards a common goal. Therefore, the responsibilities of these professionals encompass the collective wellbeing and resilience of entire communities.
Here are some actionsthat define community social work and help to shape vibrant and thriving communities:
Engaging with diverse populations
A community comprises various populations. As such, there is a need for community-based social workers to engage with each member and gain insights into the distinct requirements, capacities, and challenges encountered by various groups within the community. To advance social justice, human rights, and overall welfare, social workers must utilize different inclusive approaches to assess, develop, and execute solutions that address societal challenges.
Community social workers must provide culturally sensitive services, honoring the community's diversity and principles. Furthermore, initiating outreach efforts that develop relationships with marginalized and underrepresented groups is essential. Additional responsibilities include raising awareness of the impact of discrimination, empowering and mobilizing diverse populations to participate in the decision-making process, and collaborating with professionals and stakeholders to implement inclusive policies.
Addressing and preventing social issues
The core responsibility of community social workers is to work with individuals, groups, and organizations to address and prevent social issues that affect a community's wellbeing. They achieve this by conducting needs assessments, building power and capacity among community members, and advocating policies and programs that address societal challenges.
However, aside from these prominent responsibilities, community social workers also help to develop and implement culturally responsive, evidence-based community interventions. It is also a good practice to evaluate the outcomes and impacts of community interventions. Through these roles, social workers can help the community to function better and improve the quality of life.
Promoting mental health and wellbeing
There has been a significant and encouraging shift in the global acknowledgment of mental health. Today, mental healthcare is considered a crucial aspect of overall wellbeing, relevant to every member of society. In line with this, community social workers also promote mental health and wellbeing among the people they serve in different ways.
First, they provide support and counseling to individuals with mental health problems and those at risk of experiencing such illnesses. They also connect people struggling with mental health conditions with appropriate resources and services to help address their situation. Furthermore, social workers advocate the rights of people with mental health conditions and oppose barriers undermining these individuals.
Like the core value of empowering different populations, community social workers also promote mental health literacy and mental illness prevention. This could be understanding the symptoms and triggers of mental illness or identifying crucial factors to consider when choosing a mental health center. Other evidence-based interventions can also be implemented to prevent mental health problems among vulnerable groups.
Ethical considerations and confidentiality
Social workers from every setting must respect and uphold the ethical principles and standards of their profession. Ethical considerations and confidentiality are essential aspects of this responsibility. They include the moral values that guide the decisions and actions of social workers in their practice. These principles ensure professionals respect each client's dignity and promote social justice.
As part of this responsibility, community social workers must be aware of informed consent, cultural competence, social justice, and self-determination. Similarly, confidentiality helps to build trust, respect, and a close relationship between social workers and clients. To maintain confidentiality, community social workers must follow specific rules regarding disclosure, communication, and recordkeeping.
Impact of social work on health and social outcomes
The impact of social work on health and social outcomes is apparent and comprehensive. Hospital and community social workers perform crucial responsibilities in enhancing the health and wellbeing of individuals, families, and the community. Aside from addressing immediate health and social challenges, these professionals empower individuals to overcome barriers, make informed decisions, and push for needed change.
Through these roles, the dedication and expertise of hospital and community social workers in creating healthy and more resilient communities becomes evident. Social workers are not only service providers but agents of change that contribute significantly to enhancing the quality of life for everyone.