Updates
10 Benefits of Using Healthcare Management Software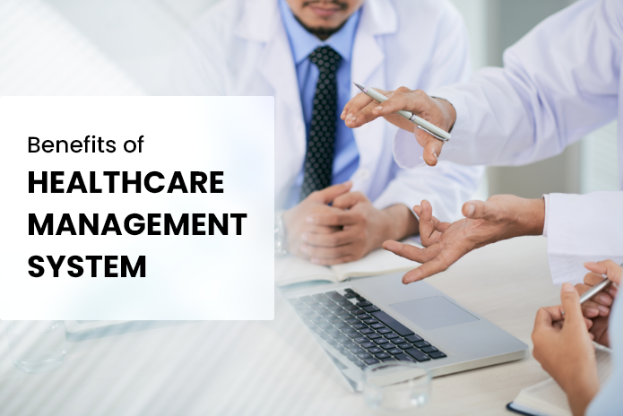 It's true that hospital administration is no longer an easy task. It demands discipline and efficient management. There are numerous tasks to manage every day. From patients' health records to billing records, everything needs to be managed in hospitals to provide the best possible healthcare service to patients. 
So, you need a smart hospital management system to manage all these responsibilities without any errors. In this article, we are going to highlight what is a hospital management system and what are the top benefits of developing a smart hospital management software. 
Let's get started with the definition of a hospital management system.
What is a Hospital Management System?
A hospital management system (also known as an outpatient management system) is computer-based or web-based software that helps manage all activities of a hospital. This modern system provides an interface for several stakeholders in any medical facility to collect and monitor information regarding the functioning of a healthcare unit.
This centralized system allows you to manage patients, inventory, billing records, finances, and much more. 
In short, this smart system allows smooth management of daily operations or complex procedures in a hospital. 
Now, let's have a look at the key benefits of a hospital management system.
10 Key Benefits of Having A Healthcare Management System
1. Streamline Your Healthcare Operations
When your hospital wants to be one of the leading hospitals, there is no escape from the smart hospital management software. This allows you to manage your healthcare organization effectively for healthcare companies. Healthcare companies along with insurance companies rely on digital data to a major extent. Here arises the need for a smart, automated system. Believe it or not, a hospital that sends and receives patients' information digitally always gets a higher preference over others. A smart hospital management software stands out your medical center or hospital from competitors. 
2. Effectively Manage Your Revenue
A hospital or healthcare center serves patients, but profitability is equally important for running a business. Revenue management is a vital element as it needs a fortune to successfully run a healthcare unit. Remember it is impossible to track revenue using manual systems. The smart automated hospital management software helps you track revenue effectively. It offers quick and accurate management reports regarding the functioning of your business. From pending invoices to advanced payments, everything is accurately shared in the reports. This smart hospital management system helps in reducing operational costs due to high operational efficiency. It ultimately leads to improved ROI. 
3. Ensures Accuracy of Your Healthcare Operations
As we have discussed earlier, a smart hospital management system helps to avoid errors. A manual hospital system can't assure 100% accurate processing. In a manual system, there are sure chances of errors. With an automated hospital management system, the chances of errors are zero. Along with that, smart hospital management software tracks every single detail of staff availability, room occupancy, and operational data regarding the hospital.
4. Improved Protection of Your Healthcare Data
Another key benefit of a hospital management system is improved data protection. Do you know? In a cloud-based healthcare management system, there is no risk of data loss and the patient's medical history or other important records are fully protected. Don't forget that a full-fledged hospital management system keeps your information secure from unauthorized access. That's why healthcare centers, hospitals, rehabilitation centers, trauma centers, and nursing homes are leveraging hospital management software.
5. Take Better and Accurate Clinical Decisions
Access to a patient's medical history and current medical conditions means better clinical decisions. In this modern era, the faster the clinician gets the medical reports, the faster will the patient's recovery. With automated hospital management systems, all the healthcare departments are interconnected and the faster access to patients' information further leads to a speedy process of patient care. With accurate clinical reports, proper treatment for clients can be given. 
6. Decreases the Dependency on Other Clinical Staff
To keep healthcare centers running smoothly using manual systems, you will need enough medical professionals. So, as the number of human resources increases, there will be more complexity in the process. But, with the help of an automated healthcare management system, you can ultimately lower the workforce strength. As the hospital management system will manage every single task, you will not face mismanagement or lack of coordination even when you have a large number of employees.
7. Seamless Functioning of the Healthcare Center
Every healthcare center is a machine in itself. Each part of the healthcare center is interconnected. To improve the overall performance, make sure that all the departments are properly synced with each other. With the help of an automated hospital management system, you can accomplish this goal. The advanced hospital management systems ensure that all the components of a hospital are in good working order and will help you achieve the best possible outcomes.
8. Efficiently Manage Your Patients 
Customer satisfaction is the key to success. With numerous healthcare options available, a patient's experience of your medical service plays a vital role. Speed and efficiency are the ingredients for patient satisfaction. Tools such as automated scheduling and communication challenges ensure a seamless, fast process that ultimately leads to higher patient satisfaction.
9. Information Available At Fingertips
The hospital's record allows you to track various events to set performance targets. With automated hospital management software, you'll have all the information you need at your fingertips. This information includes the patient's medical history, finance, workforce, and physicians. By having this information available within seconds, you can develop a long-term strategy for your hospital.
10. Save Cost of Your Healthcare Organization
The Hospital Management System, if implemented effectively, cuts out on a lot of manual work that is performed in healthcare centers. This smart HMS system helps in cutting down manpower as a lot of hospital operations get automated and do not need manual intervention to analyze the information. It saves a lot of paper-based work that results in massive costs.
Concluding Note
An automated hospital system is a must-have system for all forms of healthcare centers. This smart software streamlines day-to-day operations and also offers a centralized and secure data system. Furthermore, it also optimizes all the activities of an organization, enhancing customer satisfaction, cutting down operational costs, and streamlining the search for hospital records, invoices, and patients. So, getting an automated hospital management system will help you expand your hospital and outgrow your competitors.